Production - Our people & their work
Let's see what our employees say about us
PAB M3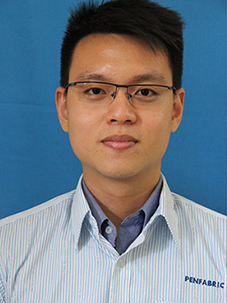 1. Penfabric Mill 3- Dyeing
 Joined January 2016
 Section Manager
It has been four years since I joined Toray, and I am most impressed with the safety consciousness and practices in Toray Group. I think good practices are important as they serve as solid foundation for many things, especially the saying, "back to basics". Meanwhile, consciousness keeps us alert to continuous improvements and new developments. I like the opportunity of solving challenges and improving the production processes. The most challenging part of my job is to coordinate with people. For people management we need to be patient and observant, hence it is most important to enhance our people skills. I also hope to enhance my professional skills in process engineering, to practise data driven and scientific approach methods in the manufacturing processes. During leisure time, I like to explore new knowledge and recently, I have been spending more time on photography and aqua scaping.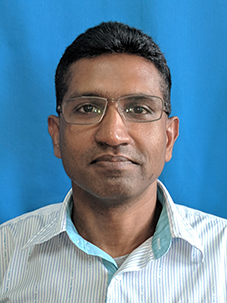 2. PAB M3- Weaving
 Joined January 2000
 Section Manager
I have been with Toray for more than 20 years. I am really enjoying my work here as Toray provides an excellent working environment as well as good welfare benefits for employees, including opportunities for various types of training to enhance our skills and knowledge. I will never get tired of learning new things everyday as there are many different weaving processes involved in textile production. New challenges and scenarios arise when using different types of yarns. Two-way communications with supervisors and team members are most important to avoid any misunderstanding. I am looking forward to further improve my textile knowledge by adapting new technology and ideas to strengthen my capabilities not only in weaving, but also other components of textile production. Having been in this industry for so many years, I would like to grow along with Toray and work towards our common goals.
PAB M4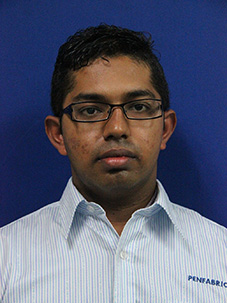 1. PAB M4-Technical
 Joined August 2015
 Senior Fabric Technologist
My job offers a wide scope of work and various opportunities to explore out of my comfort zone. I love the myriad challenges; no two days are the same. I get to learn new skills and experience that boost my creativity and motivation. Thus, I never get bored of my job. My goal is to become one of the top employees that drive company growth and I am excited for the future prospects of Toray as we have so many innovative and advanced materials in the pipeline! During the weekends, I will spend my time with my little family and take short vacations once in a while.
PFR-Fibre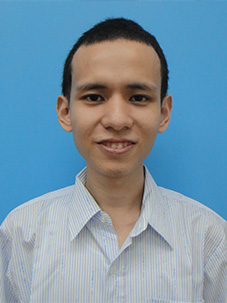 1. Penfibre Fibre Division - Technical
 Joined April 2017
 Deputy Section Manager
Toray is not only about profit-making, but also puts employees' safety as top priority as well as promotes various CSR activities. I love the family-like work environment here in my current job. Instead of having a mental wall between superior / subordinate, we are like one big family working together. In Technical Department, the most challenging part of my job is the uncertainties faced during new product development trials. Nevertheless, usually we would be able to overcome the challenges through brainstorming for ideas and implementing action as a team. Everyone in the team shares the same vision and is dedicated to the mission. This creates a conducive work environment in which people are willing to work for one another and for the team. I hope that I can continuously improve myself and help the team overcome obstacles by providing innovative solutions. After work, I love to spend most of my personal time with my family, especially with my little one (newborn).
PFR-Film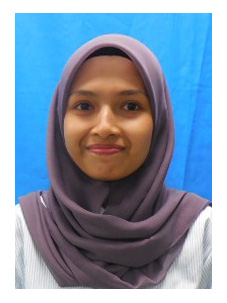 1. Penfibre Film Division - Technical
 Joined October 2015
 Assistant Section Manager
In Toray, the safety culture and awareness towards traffic as well as industrial safety are strong with continuous employee education. One of the proudest things to share is that Toray is a pioneer of advanced materials in the world market. I am really enjoying working here where I derive immense satisfaction in fulfilling my role and collaborating with great people. Everyone is very supportive and always willing to provide a helping hand to ensure missions are accomplished. At the moment, I am diligently improving my technical skills and developing my expertise in this field so that I am able to guide our junior members towards success for all.
TPM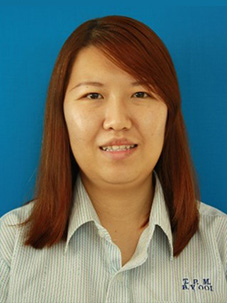 1. TPM - Production Control
 Joined September 2011
 Deputy Department Manager
Toray is South-East Asia's largest producer of ABS resins, manufacturing high quality ABS resins under the brand name of TOYOLAC®. Most importantly, Toray is a company that strives to ensure that employees work in a safe and caring environment. People genuinely care about one another and work together as a team here. In our department handling production control, the most challenging part is when we receive urgent orders from customers and must meet their requirements as soon as possible. In such cases, we will give our best efforts to find alternative lines to slot in the necessary outputs and make sure that delivery is made on time. All these are only possible when we work together as a great team towards achieving a common goal. Personally, I would like to further improve my management skills and enhance my planning knowledge in order to equip myself to handle more varied and complex tasks.