Why Join Toray
Since its inception in Penang in 1971, TORAY Group (Malaysia) has continuously developed its business, from the manufacturing of polyester fibre and textile to the production of polyester films, ABS resins and PBT resins in Malaysia.
Besides attaining the business objectives, TORAY Group (Malaysia) is also committed to being an ethical corporate citizen. TORAY Group is guided by the corporate philosophy of "Contributing to society through the creation of new value with innovative ideas, technologies and products." As a good corporate citizen, TORAY Group (Malaysia) is committed to be a valuable asset to Malaysia, the people of Malaysia, and all other stakeholders.
Our HR Vision states that our employees are the most valuable resource of TORAY Group (Malaysia). We provide our employees with excellent opportunities and compensate them based on their performance and capabilities. We aim to be a business group that maintains an energetic and enthusiastic workforce of people who find value in work, develops their abilities, and embrace and overcome challenges.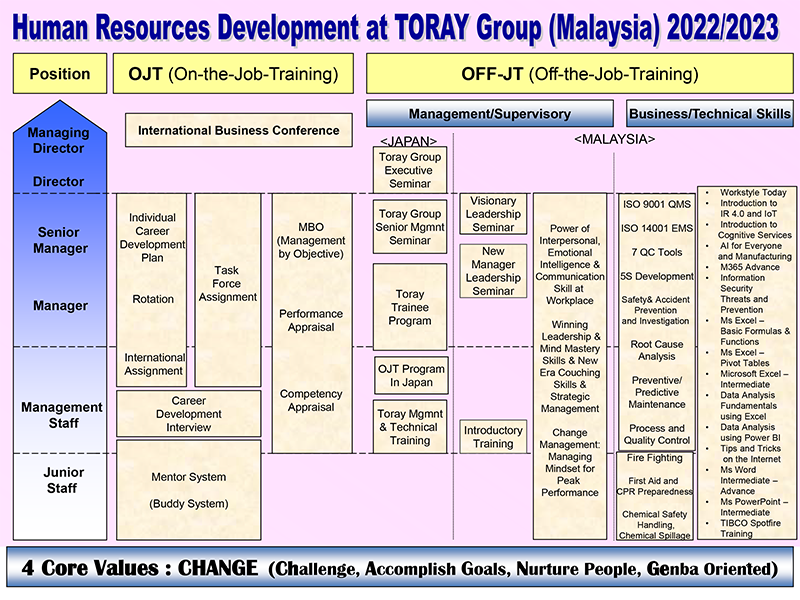 At TORAY Group (Malaysia), we realise that investing in people is as important as investing in new business opportunities and technologies. One of our corporate missions is to provide our employees with opportunities for self-development especially in challenging environment.
All newly hired employees will go through a detailed orientation programme to familiarize themselves with what it means to be a part of Toray family. This programme is designed to educate new employees on Toray between the seven elements—Corporate Philosophy, Corporate Missions, Corporate Guiding Principles, Corporate Slogan, Vision, Corporate Culture, and President's Principles.
We will also conduct various systematic training programmes for employees of all levels working in every field. Designed to improve management capabilities, sales performance, technical and other specialised skills, the training and development opportunities are provided for our employees' continual self-development to help them achieve their personal and career goals.